Merry christmas and a happy new year!
21.12.2017

We would like to thank our customers and business partners, employees, friends, families and all relatives for a successful year 2017. We will again refrain from customer gifts for Christmas this year and instead donate to charitable institutions to support people in need.

For 2017, we have increased our social fund to an annual total of € 100,000. This is used in case employees and their relatives suffer from severe strokes of fate. If there is no need for this, the reserved sum will be made available to persons and families affected by fatalities in our region as well as social institutions.

This year, among others, the boarding school Mäder (all-day school and therapy center for children with disabilities) was supported with an amount of € 25,000 from our social fund for their outstanding work.
Foto left to right: Werner Gunz, Headmistress Maria Bauer-Debois, CEO Mag. Arnt Buchwald, Simone Gunz.

In 2017, the following projects were funded with a total of € 100,000:
Schulheim Mäder
ORF-Aktion "Licht ins Dunkel"
Sozialaktion Vorarlberger Nachrichten "Ma hilft"
"Lichtblicke" der Gemeinde Altach
Geben für Leben Leukämiehilfe Österreich

International News: from Russia
12.12.2017

In St. Petersburg with a Russian customer, the Gunz Christmas range was promoted on Facebook and with a funny Santa Claus promotion.
International News: from Cameroon
24.11.2017

In Cameroon, a customer has opened a new supermarket in the capital, Yaoundé. The visitors were entertained to try various Gunz products such as candies, chocolates, snacks and canned food.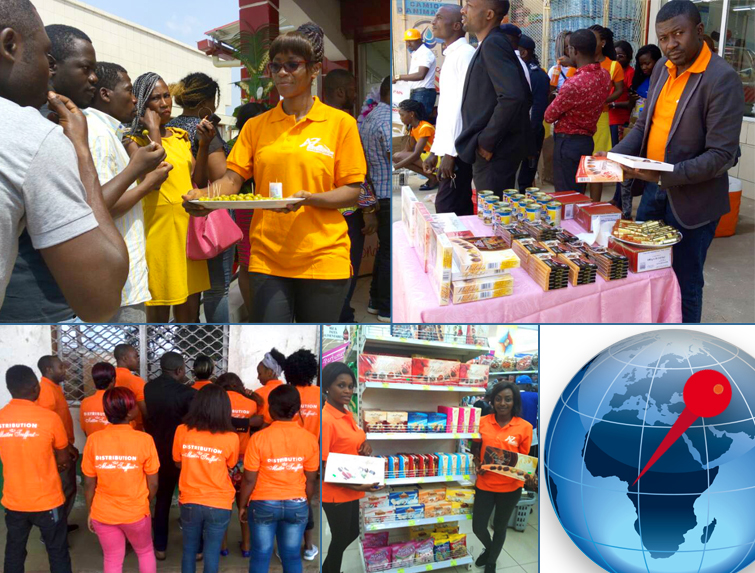 Did you make your pre-orders?
Remember to place your pre-orders for Easter! Find our Easter assortment below:
easter-Catalog
New Year's Eve!
The current year is coming to an end. On New Year's Eve, munchies and snack articles are indispensable!
We offer a special selection of snack articles for the New Year's evening: various munchies from Stiratini, pretzels, crackers, lye, wheat and corn snacks, Mexican tortilla chips and much more.
fun & joy
The "fifth season" has officially begun.
Parades, masks, music, costumes and sweet treats characterize amongst others the fifth season.
Make your choice for this special occasion.
international news: from Cyprus
In Cyprus, one of our clients has shown initiative and created a lavish display in original design for our ketchup bottles from Wiko.
international news: from Taiwan
At the second largest B2C channel in Taiwan, the butter cookies in Christmas tins from Only were promoted strongly and now they appear at first place in the Chinese Google Search!
International News: from Austria
The leaflet of Metro (Metropost) presented our Panettone from PIACELLI.
Fairtrade
We have finalized an intensive partnership with Fairtrade Austria. (Picture: Fairtrade Austria Manager Mag. Hartwig Kirner, Simone Gunz, Anne-Marie Yao from Fairtrade Africa and Werner Gunz).

Through this agreement with "Fairtrade" we have committed to pay a fair wage to the Fairtrade cocoa farmers. This creates a more stable income and higher estimation for the farmer's work.

In return to this, the Fairtrade label will be featured on the packaging of our praline and chocolate products. Through this, the customers in the shops know that they will obtain an added value with the purchase of the products.
International News: from Italy
In Apulia (southeast Italy) a very original fall scenery draws attention to our cookies, wafers and biscuits of the Papagena and Feiny Biscuits brands.
international news: from Austria
Christmas is approaching with big steps:
In western Austria (Innsbruck) the Panettone from PIACELLI stands out through its generous presentation.
New licensed products in our assortment
We offer a broad selection of licensed items and go with the trends.
New in our product range: Paw Patrol, Cars and Trolls counter displays.

Crank up your sales and fully utilize the possibilities of display presentation.

0092746 Paw Patrol Marshmallow Pop 16x20g counter display
0092747 Trolls Marshmallow Pop 16x20g counter display
0092744 Trolls lunchbox with marshmallows 50g
0092745 Paw Patrol lunchbox with marshmallows 50g
0092749 Cars Snack Cup 10g
0092750 Minions Snack Cup 10g
Successful CUSTOMER DAY
Many thanks for the interesting day!
On September 13, we invited customers to our headquarters in Mäder (Vorarlberg, Austria).
More than 20 guests from all over Europe participated in this event. Customers from Belarus and Bulgaria arrived specially for this day. Of course, customers from our neighboring countries Switzerland and Germany as well as customers from Austria followed our invitation.


During the company visit, the customers were given an insight into our family business. In addition to the informative reports and the company visit, there was also a joint hike on the program. Fall temperatures, wind, and grey skies could not distract from the good mood.

The active participation with personal thought exchanges marked our customer day. We look forward for many more years of great cooperation.
The new product catalog is here!
Edition 3 / 2017
Download or order your Gunz product catalog:
International News: from Czech Republic
Christmas is coming...
Our Christmas assortment is presented in an eye-catching way by a wholesaler in Czech Republic.
Back from the summer holidays: Liqueur and Brandy-pralines
These four flavours of pralines from Maître Truffout are back from the summer break and now again available and ready to be shipped:
0084553 - Cherries in Brandy pralines 6% vol. 150g
0084554 - Brandy Beans pralines 6% vol. 200g
0089137 - Liqueur Beans pralines 4% vol. 190g
International News: from Italy
A very complex product display of our Don Fernando products from an Italian customer in Milan:
International News: from Lithuania
In the capital of Lithuania (Vilnius) entire shelves are stocked with Gunz products. Specially our assortment of chocolate and pralines are particularly popular in Lithuania.
Gunz Eurasia OOO
We took the step to establish our own company in Belarus.

Gunz Eurasia OOO is based in Minsk, Belarus. The company was registered on March 6, 2017 and is a 100% subsidiary of Gunz Austria.
The Eurasian economic area includes Russia, Kazakhstan, Armenia, Kyrgyzstan as well as Belarus and covers a population of 183 million people.
At the moment, the preliminary work is underway. In Minsk, Leonid Rekish is our Managing Director.
International News: from Cameroon
Our products are very nicely placed in Cameroon, Central Africa.
Here we could establish a regular business with chocolates, pralines and biscuits from our own brand- program!

Bestseller: White chocolate from Maître Truffout
Did you already pre-order?
Remember to make your Christmas pre-order!
Here you can browse through our seasonal assortment:
Warehouse Magdeburg:
Construction of the photovoltaic system
The construction of the photovoltaic system at our Magdeburg branch has started well. The panels will soon be installed and the cables laid out. (approx. 50 km cable). The corresponding transformer station will be delivered and installed at the beginning of September.

At the end of September, the photovoltaic system will start its operation. The plant generates approx. 750.000 kw/h of electricity annually. This corresponds to about one and a half times the amount of electricity we consume in Magdeburg. We place importance to sustainability and environmental protection.
Also the value creation continues to stay in the region. (German-Austrian production).
The investment amount is around 1 million EUR.
News from GERMANY
Exceptional second place displays in Germany:
Clever displays, perfect for the summer time!
In a hammock, a customer presents our wafer balls and cookies from Papagena and Feiny Biscuits.
Our popcorn in the bucket from Snackline are stacked on a sailboat and also different flavours from the Don Fernando seafood-assortment are staged.
Economical handling of packaging material
50 percent consumption saved
In the warehouse we changed the film wrap to a new quality.
In terms of price, we are similar to the previous material, but the consumption is about 50 percent lower.
This allows us to reduce the annual consumption by more then 30 tons, a great contribution to the environment.
New freight forwarding partner in France
In order to increase customer satisfaction in France, we have been switching to the freight forwarder "STEF", since June for deliveries to France.

Reasons for the change are as follows:
- faster delivery times (48hrs - 72hrs for all France)
- use of refrigerated trucks
The new product catalog is here!
Edition 2 / 2017
Download or order your Gunz product catalog:
customer visits in HOllywood
Our Gunz-America-Team during a customer visit in Los Angeles/Hollywood:
News from the online tip-box:
multiple stores - only one log-in

You have several retail stores?
You only need one login to order easily in our webshop!

Inform us about your stores and we will create your log-in datas accordingly.

To order for your different stores, please proceed as follows:
1. www.gunz.cc
2. Log-in
3. Select the applicable store before filling your shopping cart.
4. Unter "My account" you can review your data.
new christmas products
Many new articles can be found in our Christmas assortment 2017.
Browse the seasonal-assortment and discover many new products.
Did you already pre-order?
Remember to make your Christmas pre-order!
Here you can browse through our seasonal assortment:
INTERNATIONAL News: from Russia
In the fourth largest city of Europe "Saint Petersburg", we are very present with our products.
The pictures of the Russian customer speak for themselves:
INTERNATIONAL News: from China
GUNZ-articles also sell very well in China. Filled shelves with Gunz-products from a customer in East China:
Unicorns as a symbol for freedom, untamedness and self realization
Nobody can currently escape the unicorn trend.
Pink + Glitter + Rainbows
When it comes to unicorns, most women have these thoughts in their heads.
This trend hits the pulse of time. We are also going with the latest trends.
PRODUCT-PREVIEW:
INTERNATIONAL News: from chile
Also in the South of Chile (Punta Arenas) our products are tasted.
Filled shelves with products from the Gunz-assortment.
Licensed-displays on ¼ chep-pallets
We offer a wide selection of licensed products and go with the trends.
New in our assortment: Licensed products in the confectionery sector on 1/4 chep-pallets.
The free-standing displays are ideal for the second placement.
Crank your sales by fully utilizing the possibilities of the display presentation.
0091841 Licensed product Surprises 411 piece display
0091842 Licensed product Toys and Sweets 278 piece display
0091171 Mix - dispensers and refillers 120 pieces display
INTERNATIONAL News: from France
Our products of our own brand PIACELLI are popular all over the world. At our customers you will find everything from Antipasti and Pesto to Sugo and Pasta to Tiramisu Biscuits and Italian Pastries.
Here are some impressions from a supermarket in France:
INTERNATIONAL News: from Algeria
We are also present in Algeria. Filled shelves with Piacelli-products at a supermarket in Algeria:
News from the online tip-box:
your pricelist as pdf
Simply create your individual price list as PDF.

If your are already a webshop-client, please proceed as follows:

1. www.gunz.cc
2. Log-in
3. My account
4. My price list
5. Select price list design (table or catalog)
6. Click on button "create my price list as PDF" (takes about 30 seconds)
7. Open directly or save to computer
You are not yet a customer of our web shop?
Watch out…soon it's time!
Let's meet in Cologne!
The ISM in Cologne will open the doors from January 29 to February 1. We are looking forward seeing you again!
Stop by our booth in Hall 11.2. - Booth E21 and be surprised by our novelties!
We will sweeten your day with many treats!
INTERNATIONAL News: from URUGUAY
Following some impressions from South America.
A wide selection of chocolates, fish and coffee from our own brand Maître Truffout, Niko and GINA Originale can be found at our customers in Uruguay.
The products can be found at supermarkets in Montevideo and in border shops by Brazil and Argentina.
The new product catalog is here!
Edition 1 / 2017
Download or order your Gunz product catalog:
GUNZ SUPPLIES GERMAN NAVY
The German navy is participating in taking measures to save people in distress in the Mediterranean Sea. The Germans ships were also in operation over Christmas and New Year.
We were able to supply the crew of the "Mecklenburg-Vorpommern" with our Christmas products.
Annual Review 2016
closed with a new sales revenue record.

Gunz can successfully complete the annual balance sheet. We were able to increase sales again. The sales revenue was € 128.8 million, which corresponds to an increase of 5.34 % or € 6.5 million.


We were able to further expand our international presence. The Gunz-own brands are sold in 90 countries.
Our strongest sales country is Germany. Here, the sales increase was even higher than the general average.
2017
In the current year, the focus is to further expand our sales team. We increased our number of employees in the sales field to 60. Herewith, our 8.000 regular purchasing customer will have the ideal support.